Bang Bang Ji
Bang Bang Ji
Boiled chicken, finely sliced and cut cucumber, thin omelette served with sweet and spicy sesame cream sauce (The red sauce. The other is coriander sauce).
My favorite Chinese summer appetizer.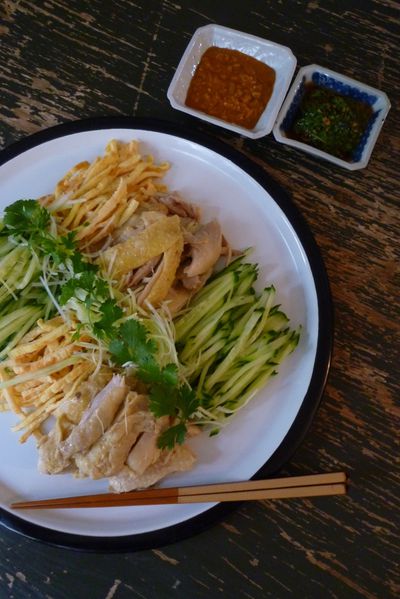 This flavorful sesame cream sauce is
really useful.
You can serve it also with steamed vegetable, or by mixing with Chinese boodles or using it as a dressing for salad or tofu....etc etc.
For 2 prs.
3 table spoons of sesame cream
2 and 1/2 spoons of soy sauce
2 spoons of rice vinegar
1 and 1/2 spoon of sugar
1 spoon of sesame oil
1 cm of finely chopped ginger
3 cm of finely chopped leek
1 tea spoon of finely chopped garlic
1 and 1/2 tea spoon of Chinese chili bean paste
You can keep this sauce in the fridge for a week.
Bon appétit!