Birthday party for H and A
For the birthday of my partner H and his associate/best friend A at their own studio CIGUE
http://www.cigue.net/
50 persons invited. Sit down around the beautifully designed tables by CIGUE (and their chairs).
Eat, drink, talk talk talk. The best birthday party atmosphere I've ever had. It was a huge pleasure to have the occasion to cook for such a beautiful night!!!
It was really nice that people were helping me so much for serving the dishes (some of them came even early especially to help:) merci merci S, L, H, F, C, N, J and plus!!!
So, alors, we start putting things on the plates.....
Almost finished. Waiting for Tofu and dressing for salad on the top...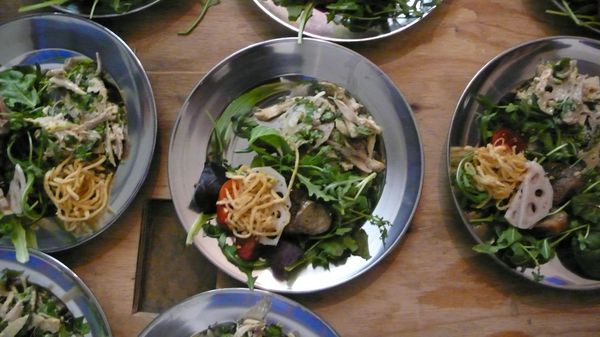 And, voila!!! For 50 persons! (Merci J pour le photo!)
Today's menu
1)Small plate on the left
Sticky rice with dried shiitake, shrimp and stewed tender pork on the top. (+lime and ciboulettes )
The pork was stewed in a pot for two days. Almost melting in the mouth. Mmmmmm.....I basically don't eat meat but I can not resist it.
2)Large silver plate
-Salad with marinated eggplant in ginger olive oil/ boiled lotus root in chicken stock/ cherry tomato / marinated dried white radish with balsamic vinegar and grape seed oil / and onion sesame dressing on the top
-Tofu with Chinese flat ciboulette and ginger sauce
-Lotus root and chicken salad with coriander and sesame seed. Touch of fish-sauce and mayo.
Bon appétit! Itadaki masu!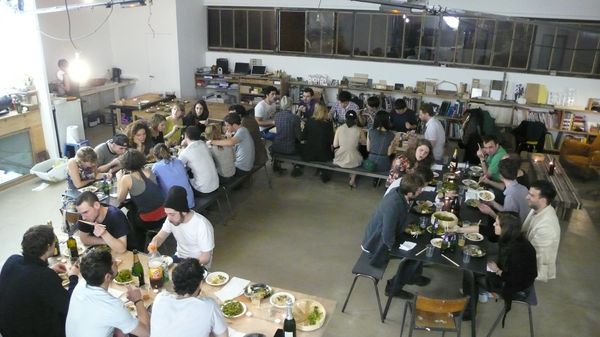 And after eating, light is down, and we go drinking drinking......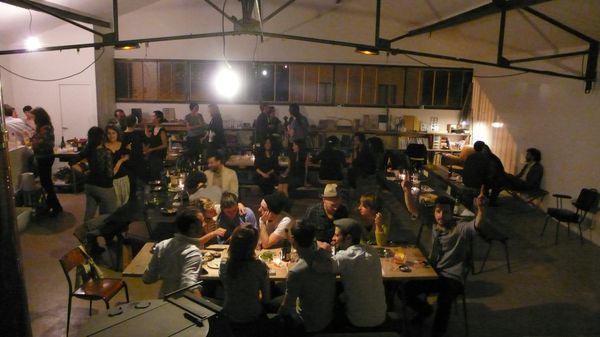 Merci tout le monde, et happy birthday mon Hige san and Alph san xxx
Bon appétit!