Classic Japanese breakfast with girolle mushroom
Hello hello Autumn has come!
And here goes the tasty mushroom season.
French mushrooms can make a wonderful match with Japanese dishes.
For example, I love girolle mushroom for my Japanese cooking.
Now you go to marché and it is everywhere.
This flavorful mushroom is perfect for being cooked with rice with ginger.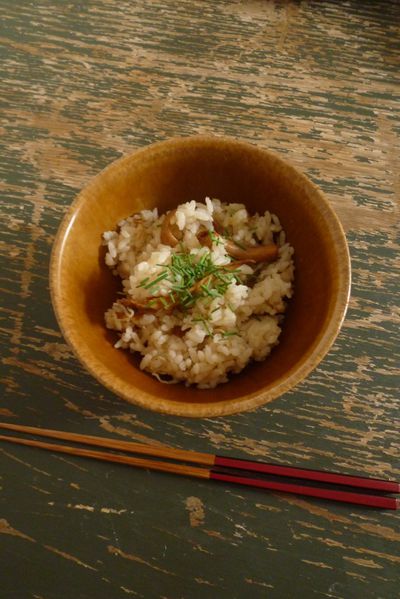 Girolle mushroom Takikomi Gohan (flavored rice)
For 4 prs :
2 cups of rice --- rinsed and drained
2 cups of water
2 table spoons of soysauce
1 table spoon of sake
1 pinch of salt
1 table spoon of mirin (sweet sake)
1/2 coffee spoon of sesame oil
1/2 coffee spoon of olive oil
100g of girolle mushroom --- cleaned and cut into pieces
15 of ginger --- sliced and thinly chopped
Put all the ingredients in a rice cooker.
If you don't have one, put them in a pot,
Bring the rice to boil uncovered at midium-high heat.
When it boils, turned the heat to low. Put the lid on tight.
Wait for 10-15 mints and turn the heat off.
Leave it for another 10 min then fluff up the rice.
Then serve with chives.
It's so easy and so delicious! Your kitchen will be full of Autumn smell for sure.
Today to accompany with : (clockwise from the top)
Japanese sweet omelette with green onion
Cauliflower with Japanese plum dressing
String beans with sesame cream
Marinated turnip with small fried fish and chives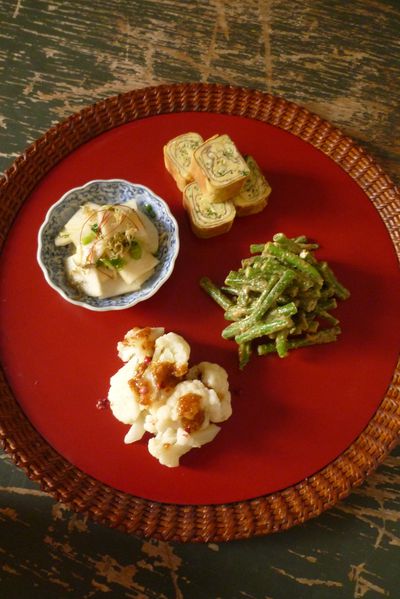 It was such a nice breakfast! (Yes we eat a lot in the morning!)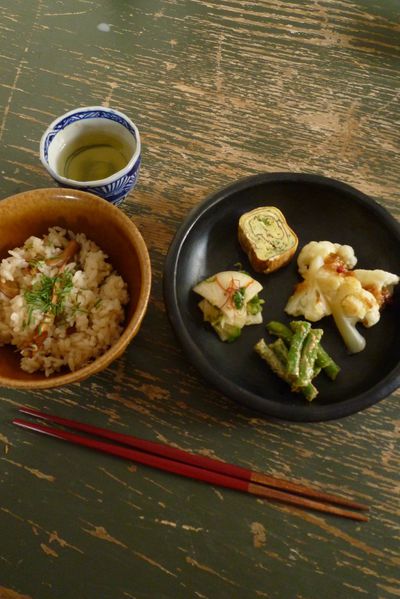 Alors bon appétit!