For Japan
This Tuesday, me and my friend S held a charity event for Japan
with a huge help from a place called
TWINKIE
http://unlockparis.blogspot.com/2010/07/twinkie.html
Here usually is a restaurant where you can have really good English/ French/ American style brunch with yummy bagels and cakes. Trust me, it's THE perfect brunch place in Paris!
So that night the menu was...
Menu 20 euros
Kirin beer
Edamame
Assortment little bits of Japanese food
Green-tea cheese cake by TWINKIE (Thank you!)
Tea
Here is the flyer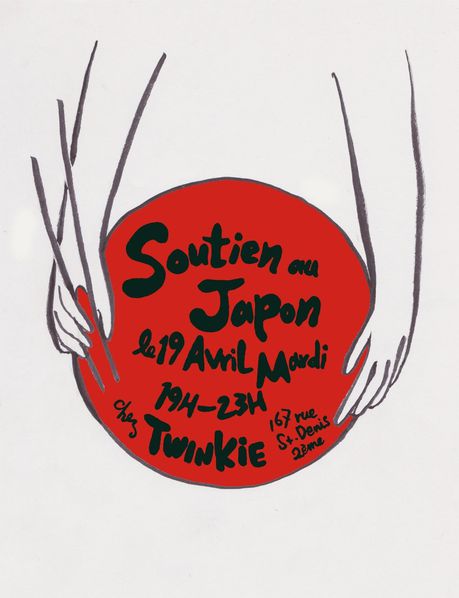 Menu composition (clock wise):
-Roquette salade with mix of dried and fresh white radish, fried wongtong skin, sheeds of KUKO (red) with carrot and sesame dredssing
-Rice with ginger and green peas
-Soboro (pork) on the top of the rice
-Kinpira sautéd lotus root (I could not find it so I substituted with gobo root for the night) on the rice
-Marinated eggplant, Chinese ciboulette and red onion with Thai dressing (fish-sauce, soy sauce, lime, sesame oil)
-Tofu with spicy miso and leek sauce
-Pumpkin croquette with egg sauce and Tonkatu sauce
-Marinated red cabedge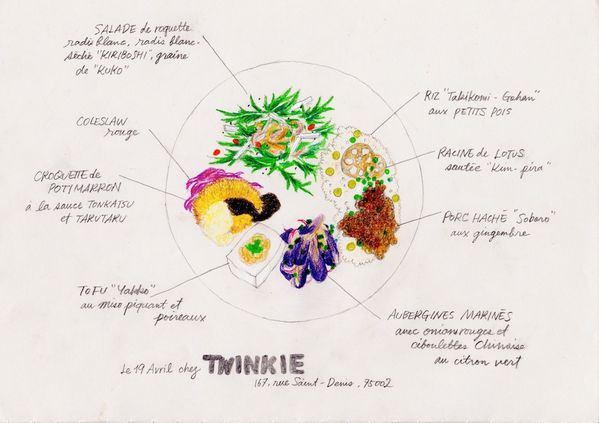 Reeeally nice kitchen to work! In the middle of serving....(and M in charge of Edamame and pork in the back:) Merci!)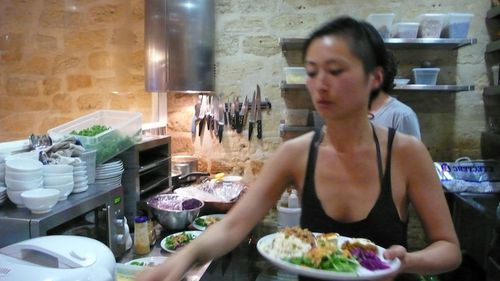 IT's not so far from the illustration, non?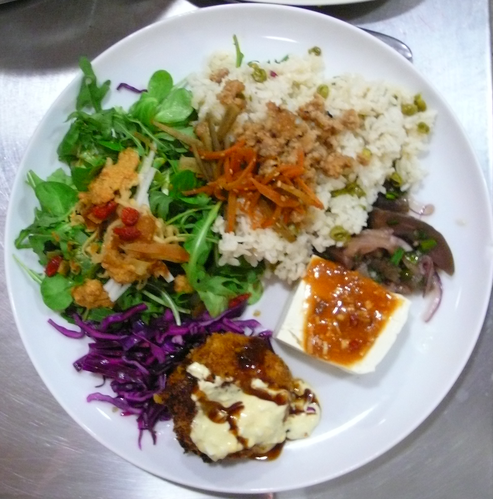 Bon appétit! (By my partner, thanks for all the photos!!!)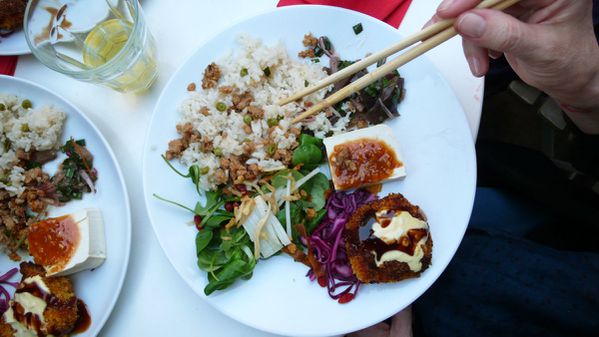 70 persons came. 1,400 euros were collected. It will be sent to Red Cross Japan.
It was (and still is) a huge shock to have the horrible news of earthquake which happened in Japan last month. People are still suffering under the fear without food or house. Hope all the money we could collect will arrive there to help a bit of the situation as soon as possible.
Thank you so much for those who came to participate this event and donated!!!!!
And huge thanks to the team TWINKIE and my friend S for the great help. They helped me in every way (kitchen, serving, installing the tables or collecting the money....) Without them, I would never have been able to achieve this. I was touched by their kindness and warm heart.
And merci merci S for organizing this event with me:)))!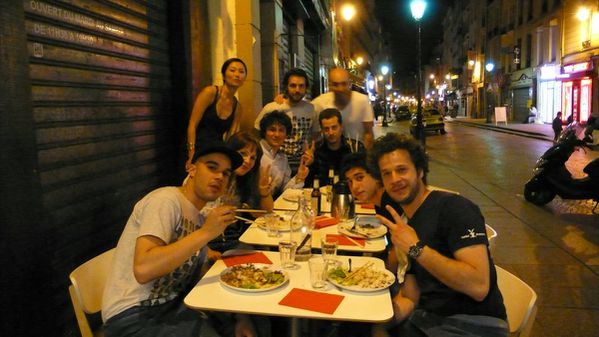 Voila Ganbare Japan!
Bon appétit!