Home made breads and Sesame-Miso spread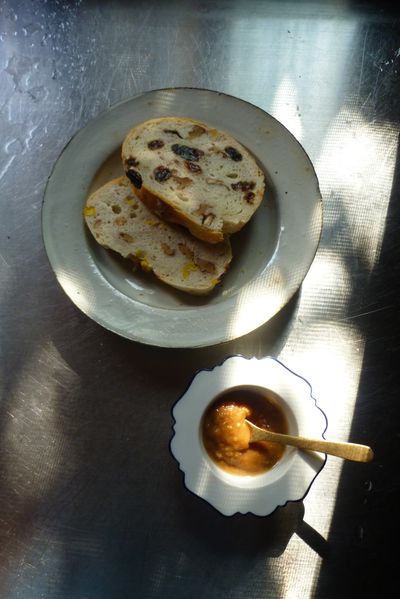 This might be something a bit bizzare even for Japanese.
But when you find a nice pain de campagne or hard type bread with nuts, please try this spread.
Simply mix sesame paste and miso (3 sesame cream :1miso). Or it can be plain peanut butter instead of sesame cream.
The saltiness of miso and creamy taste of sesame really match with the bread. (I find this spread doesn't go so well with toast or any kind of light and soft bread)
You can also add a bit of honey.

It's quite interesting to see the fact that these hard type breads which have slightly sour and rich taste of flour go quite well with some Japanese dishes. If you have left over Kimpira gobo (quick fried Japanese burdok with soy sauce and sweet sake) , add some mayo and sesame seeds (you can also mix a half sheet of nori cut in small pieces), then put it on the slice of pain de campagne. It's my favorite kimprira left over receipe!
And this time, I made the breads!
Not as good as professional pain de campagne but nothing is better than just-out-of-oven bread!
Walnuts and raisins
Sweet corns ( also made it flat and spread some herbes de Provence and olive oil like focaccia)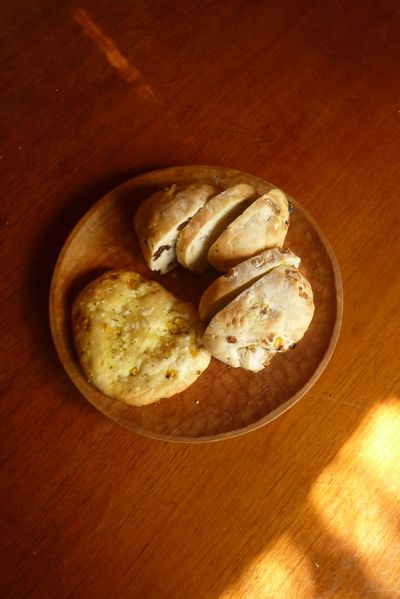 I really want to make them again during the week-end with my partner..... it should be fun!
When I was little, I loved making breads with my parents on Sunday. For me it is a happy family cooking :)
It's almost (or already?) vacance season. It's not bad idea to take some time and make some breads with your family (or friends), non? Especially kids will love it!!!
Alors bon appétit!