Kidney beans and broccoli salad with coriander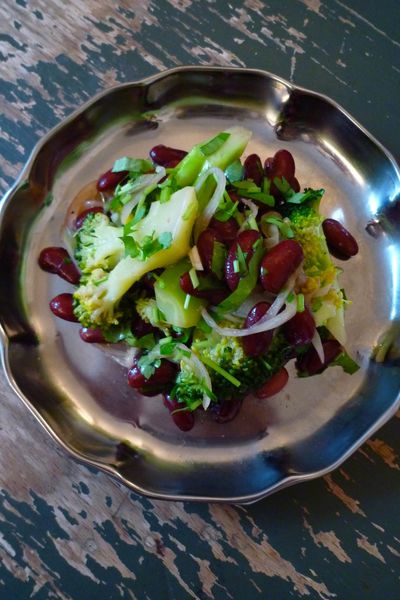 You can also make this salad with azuki (Japanese small red beans).
Broccoli, garlic, onion and red beans; they help you to detox your body.
After all the partying-eating-drinking of Christmas and new year, I guess now it's a good time to clean up your body?


1 broccoli cooked in salted water and cut in pieces
1/2 cup of cooked kidney beans
1/2red onion sliced

-------------------
1)
-olive oil
-salt
-rice vinegar

Mix with kidney beans and put it aside for about 30 min (or even a day or two. When I cook beans, as soon as they are cooked, I marinate them like this and keep them in the fridge.)

2)
-pumpkin seed oil
-rice vinegar
-soy sauce
-a hint of fish sauce
-1 tbsp of chopped garlic

Make a dressing with the ingredients above. Mix it with onion, marinated beans, and broccoli while the broccoli is still hot.

3)
-chopped coriander

Add chopped coriander just before served.
then, bon appétit!