Menu of the day TEISHOKU
Teishoku is one of my favorite forms of meal in Japan. Teishoku---means set menu--- is always formed with main dish , several small veggie side dishes, rice and miso soup served at the same time.
Very often TEISHOKU YA (restaurants which serves their food in this kind of form) is no stylish no expensive atmosphere full of middle aged business men whose wives abandoned to cook for them long time ago (sorry for this super biased explanation).
Ehem, maybe it's not really true but for those who want to eat well balanced, reasonable family style Japanese food, this is where to go. Teishoku is made to be eatable for every day. Ingredients in the miso soup was seaweed yesterday but today is tofu. Or side dish today was marinated eggplant but tomorrow will be spinach salad....etc etc. The customer can come back everyday and they get to eat something a bit different.....
And my food is not so far away from the idea. Nothing is really fancy or super expensive. It's light enough to eat, if you wish, every day and it is very well balanced that you will be well nourished.
Here is my TEISHOKU of the day that i do in the form of catering for example.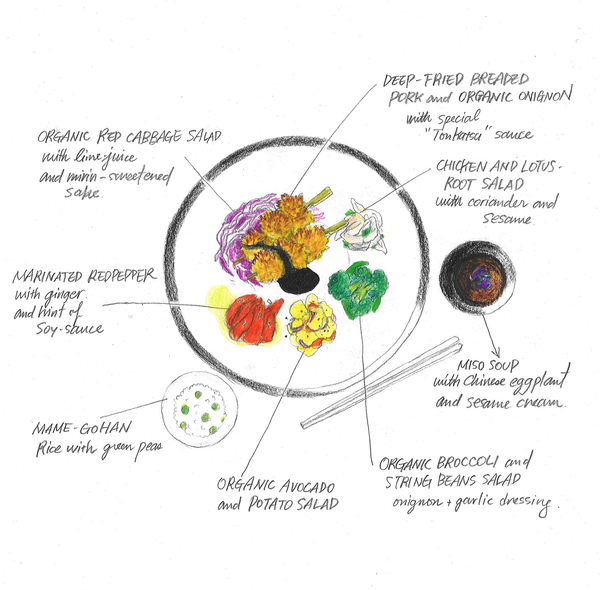 And I really do hope that I can serve this kind of dish in a fixed place, a nice TEISHOKU restaurant in Paris.
It will be lovely! I am looking for a place now....ANy kind of info welcome:)))
Alors, bon appétit!