Noriko's honey chicken
A recipe from a wonderful woman, Noriko-san, whom I've known since maybe I was 5 years old.
She and her husband, Mr. Wang, who was an absolutely amazing Shanghainese cook were always in my childhood memory. Our family was totally addicted to his wonderful dishes and we went to his restaurants evey month or even every week over the years.
I am 100% sure that Mr.Wang's food and Noriko's hospitality influenced me to have this career.
They taught me how food can make a person happy.
Mr. Wang, who passed away very recently, was sort of my second grand father.
And her wife, Noriko san was my second mother.
Unfortunately I can no longer taste his wonderful dishes. But still his restrant is in Tokyo, with Noriko san, their daughter, and two young and talented chefs who inheritated the taste of Mr. Wang.
This time when I went back to Japan, Noriko san taught me this recipe, saying she was so happy that I am now cooking for people like she does.
She brought me three enormous files with all the recipes of Mr. Wang and her original recipes that I never tasted.
She and I stayed all day in the kitchen of her restaurant, tasting her recipes.
They were all amazing.
So here it is.
So easy to make. But absolutely delicious.
Lightly powder chcken wings wih flour.
Deep fry utill they get golden and crispy.
Then put directly in a bowl where you add:
soy sauce
honey
grated garlic
bunch of black pepper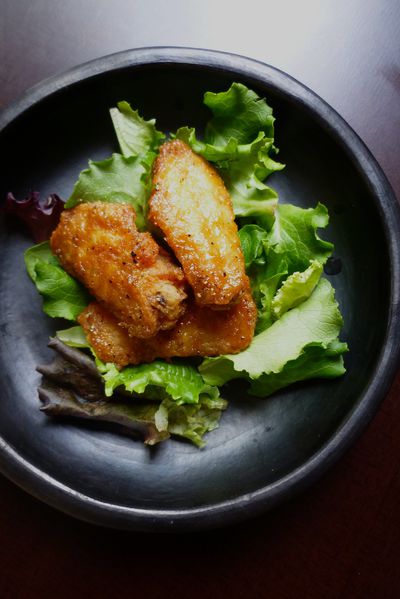 And here is a part of our home party menu including Noriko's fried chicken!
First phots is a large dish Asian style.
Salted and boiled pork with herbs
Spinach salad
Marinated bio carrot in sweet vinegar sauce
Boiled bean sprouts
Spicy minced pork with ginger
Bio lettuce and ciboulette
Rice with mixed wild grains
You rap anything you like with lettuce and put sauces:
Coriander and sesame sauce (green)
Korean spicy sauce (red)
And mountains of Noriko's fried chicken...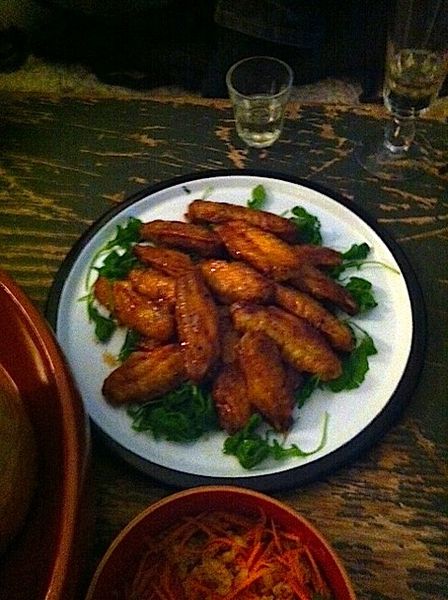 The rest of the dishes for that night were :
Marinated eggplant, zucchini and thin rice noodle with balsamic vinegar sauce
Stewed chiken with star anis
Bio carrot salad with tuna
Everyone seemed happy (I hope!). One day, I really do hope that I can make people happy with my food as Mr. Wang and Noriko did to me.
Merci Noriko and Mr. Wang!
Bon appétit!