One day early dinner with a friend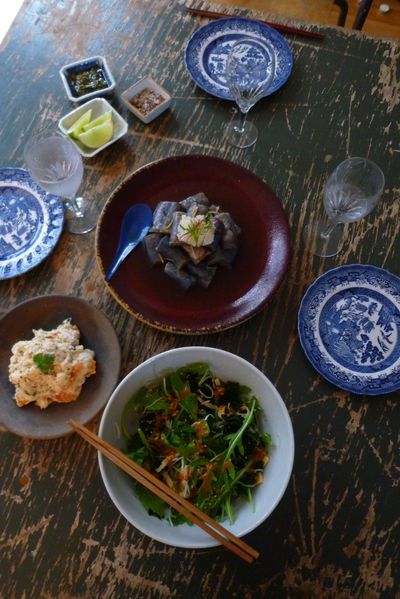 For entrée :
Roquette, leek, wakame seaweed and sesame salad with carrot dressing
Fried eggplant marinated in Japanese bouillon served with Korean chili, grated white radish
Japanese style potato salad
Zucchini frite (not in the photo)
served with (left side above in the photo)
-lime
-salt with crushed Chinese pepper
-coriander sauce
For main :
Thai style stir-fried hashed pork with fresh basil and chili. Served on the top of white rice with fried egg.
(not in the photo either! Sorry....:( )
Japanese style potato salad is one of the most popular and well known Japanese home style dishes.
Each family has its own special recipe. But always put mayonnaise. It's the ingredient we can not miss for this dish.
Cook potatoes in the boiling water or steam them.
Peal the skin when they are still hot and crush them roughly in a bowl.
Then add sliced and boiled carrot, sliced cucumber, onion, etc, etc (you can also put sliced ham, sweet corn...)
You can season it only with mayo, salt and pepper.
But in order to make the salad more diet-friendly and complexed taste,
I like mixing mayonnaise, lime juice, fish sauce, olive oil, salt and pepper.
Another dish is fried egg-plant marinated in Japanese bouillon called dashi.
The recipe is a bit complicated so I will explain next time.....but it is one of me and my partner's favorite dish.
Fried eggplant should be marinated in the bouillon more that ( hours so that it absorb the taste of dashi and become so soft that it melts in your mouth. Mmmm...
Alors, bon appétit et bonnes vacances!