Ratatouille gratin with soy milk bechamel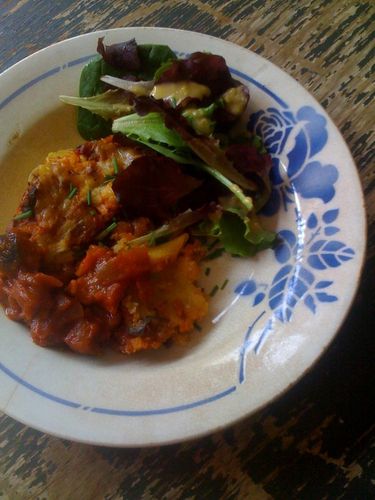 Saturday lunch!
Gratin is my "lazy but I need to do something with all the bits of these veggies in the fridge" menu.
Today I put
Pennne (cooked)
↓
Quinoa (cooked)
↓
Ratatouille
(Cut any veggies left in your fridge into cubes, heat olive oil in a skilette, throw a crushed garlic in, when it starts smelling yummy, add the cubed veggies ONE KIND at a time like, onion > zucchini > red pepper > eggplant > mushroom then add a can of tomato, salt and pepper, bit of olive oil, then shimmer for 20 min)
↓
Soy milk béchamel 
↓
Sliced emmental
↓
Oven for 15min
↓
Trop bonnnnn!!!!!
With salad with white onion dressing
Soymilk bechamel is so easy to make and it's amazingly tasty. Much lighter than milk-butter bechamel.
Takes 5 minutes to make. And it can be used exactly as normal béchamel. Trust me. You will love it.
<<Recipe for soy milk bechamel>>
Sauté the onion and garlic (chopped into little pieces) untill it becomes clear and soft
(not untill it becomes brown) in medium heat.
Add flour and mix untill the powder covers the pieces of onigon + garlic
Lower the heat and add soy milk little by little while you mixing continuously and heat untill it gets the consistancy.
Add sel and also some nutmeg powder (j'adore!) or laurier if you want.
Bon appétit and bon week-end!!!