Simmered Mackerel with Miso
Today's my lunch is Saba No Miso Ni. Simmered mackerel with miso, some left over from the work that I did yesterday ;)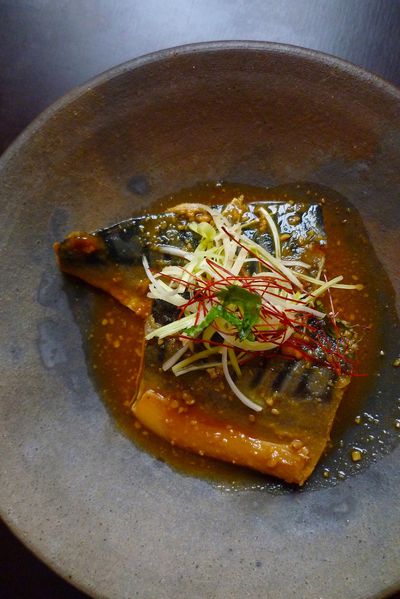 If you find a good, fresh mackerel in the market, please try! Seems a bit complicated but so easy to make actually.
One of classic Japanese family dishes that I love.
Ingredients :
- 4 slices of ginger
- 2 mackerel fillets (cut into two pieces = 4 pieces)
- 3 tbsp + 1tbsp mirin
- 2 tbsp. shoyu
- 3/4c + 2 tbsp water
- 1 1/2 tbsp. miso paste
- 1 tbsp. sugar
Directions:
To a skillet, add 3 tbsp of mirin, shoyu, sake, 3/4water and ginger and bring to a boil. Place fillets in skillet, skin side up.
Cover pan and simmer for about 10 minutes.
Combine miso paste, sugar, in a small bowl. Add 2 tbsp of water and 1 tbsp of mirin. When fish is cooked through, add the miso mixture to the pan, and simmer a few minutes more, basting, until sauce is reduced.
Remove pan from heat. If the sauce has not enough thick texture, remove the fish and heat the sauce until it gets the texture.
Spoon sauce over the fish, top with leek, ciboulettes or chili threds.
Today's lunch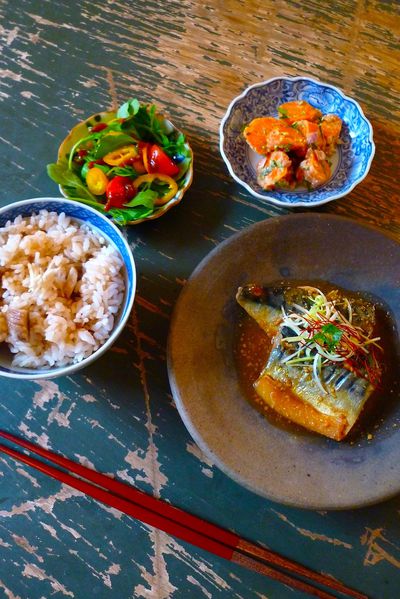 Simmered mackerel in miso
Bio carrot salad with Thai fish sauce, mayonnaise and coriander
Roquette, tomato and yellow pepper salad with spicy Korean miso dressing
Rice with chestnut Kurigohan
I love the combination of Kurigohan and mackerel... sweet chestnut and taste of miso....mmm.....perfect match!!
Alors bon appetit!