Sometimes no Japanese
Vegetarian couscous and parsley salad.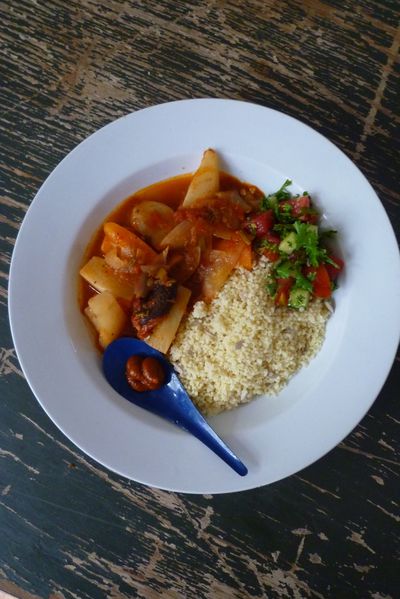 If you find fresh, organic parsley and organic lemon, please try this super easy and fresh salad which contains full of vitamins. It makes your blood clean and revitalize your body.
It's important to use good ingredients and salt. Then your success is promised :)
Chop bio parsley and cut tomato and cucumber in small pieces.
Add salt, freshly squeezed lemon juice, pepper and one spoon of olive oil.
For couscous, I like adding some dried fruits in the soup. This time it was dried apricot that I found in the kitchen.
Other ingredients for the soup are daikon raddish, carrot and onion.
I add some pumpkin seeds in the semoule.
The way I cook couscous may not be authentic ... but I like it!
For my big meat-eating partner, serve it with grilled merguez.
30 minutes for preparation including the salad.
Bon appétit!