Steamy food at DE STIHL Camp with Mr.O + Mr.O
My friend Mr. O asked me to join his project DE STIHL camp.
Here is the quotation from their introduction.
"De Stihl
Camp's idea revolves around a machine that produces steam for energy. Hot water baths and pressure cookers can initially be producing bentwood. The steam will loosen the fibers of wood to make it soft. The device goes far beyond a mere tool of production because the steam can also be used to prepare a meal as well as to power a sauna. The machine becomes a reason for making a social connection in a low-tech and slow context: we produce, we eat, we relax."
It was such an exciting experience!
(Where I can also cook inside!!!)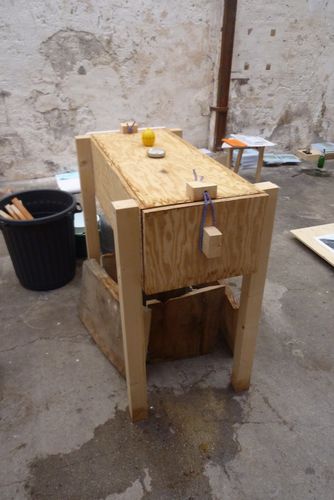 and the chair he made with the machine
And beautiful books and visuals of the DE STIHL library by Olivier Lebrun
They did their project first in Paris and next in London, o
rganized by PastVynerStreet in collaboration with DesignMarketo.
I did some recipes for the "steamy food"(which I did not take photos :<)
Steamed potatoes with two sauces : Spicy coriander sauce and Cream + fresh yogurt sauce with cumin sheeds
Steamed apples with crumble of spice bread, honey, dried raisin and ginger
Here is the last day for Paris exposition.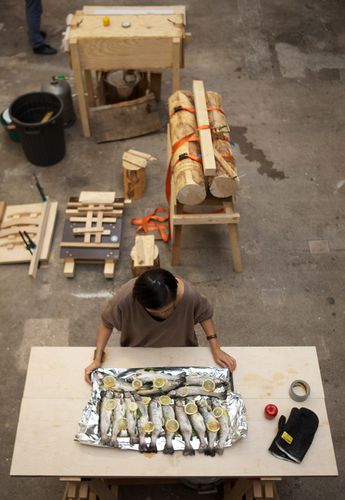 I made steamed trout with ginger-leek sauce.
It's absolutely easy and tasty. Please try it for your next dinner!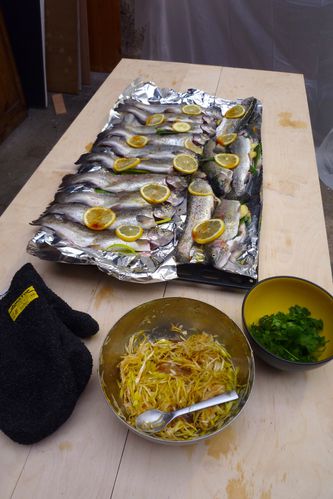 4 trouts (cleaned inside)
Put green part of leek and slices of ginger (two slices/trout)
Prepare a large dish (which you can put in a oven) and sprinkle some olive oil and salt
Put the trout on the dish and sprinkle salt, pepper, olive oil and soy sauce (one coffee spoon / trout )
Put some slice of organic lemon on the top
Cook in the oven (220℃) covered with aluminum foil OR cook in the steamer with mid-high heat without cover for about 20 min
Finely chop the white part of leek and ginger
Heat two table spoons of vegetable oil until it smokes
Pour it over the leek and ginger
Add three table spoons of soy sauce and one table spoon of rice vinegar
Serve the trout with the sauce and sprinkle some coriander
And bravo bravo Olivier and Olivier!!!